Welcome to the website of the Vascular Society of Malaysia.
The Vascular Society of Malaysia is almost two decades old and during this period there has been a rapid evolution of care for patients with vascular disease. The modern vascular surgeons are involved in every aspect of patient care from prevention, treatment and also rehabilitation. The last two decades have seen vascular surgeons embrace endovascular therapy in a big way and this has broadened our armamentarium tremendously. The term vascular surgeon is now synonymous with an endovascular surgeon as he/she will be able to provide the whole gamut of therapy including medical, surgical as well as endovascular therapy.
The Vascular Society of Malaysia will be collaborating with other fraternities who are involved in the care of vascular patients inducing the nephrologists, interventional radiologists, cardiothoracic surgeons and cardiologists for a concerted effort towards improving the care of
patients.
We are currently facing a pandemic which is unprecedented that has not been seen in our lifetime. This has changed the way we do things as we are now looking at new ways to conduct society activities remotely. These includes webinars, online discussions and even online
conferences. As such, the coming months will see the Vascular Society of Malaysia changing the usual method at how we carry out our activities.
Websites including the use of scale media has proven to be a valuable tool to disseminate information to not only the medical fraternity but also the public at large. The Vascular Society of Malaysia will be revamping the website to enable user to get valuable information on vascular diseases. It will also enable some of our valid corporate members to provide links to their latest products and innovation.
Lastly, do spend some time going through the various educational content in this website which will be updated periodically. Also, do look out for various activities which are planned be it onsite or online.
Stay safe.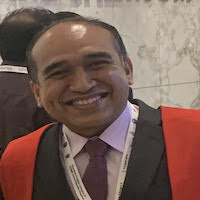 Dr. Naresh Govindarajanthran
President
Vascular Society Malaysia