Welcome to the Vascular Society of Malaysia's website! We are thrilled to announce that September is designated as National Vascular Diseases Awareness Month. Our primary goal during this month is to promote understanding and raise awareness about vascular diseases among both healthcare professionals and the general public.
Vascular diseases often remain overlooked due to a lack of awareness, leading to patients seeking medical assistance at later stages of their conditions. Additionally, the crucial concept of preventing vascular diseases is often not fully utilized. To address these challenges, we have collaborated with the Ministry of Health Hospitals and the Ministry of Higher Education hospitals to organize a series of engaging activities.
The Awareness Month will kick off with an official launch on September 2nd. Following this, there will be a series of medical Continuing Medical Education (CME) talks held at the AICB building on Jalan Dato Onn. These talks are specifically designed for healthcare personnel to enhance their knowledge regarding the diagnosis and management of various vascular diseases.
For the general public, we are providing an opportunity to undergo various screening tests at the Specialist Clinic and Ambulatory Care Centre (SCACC) in Hospital Kuala Lumpur throughout the week. This awareness week will culminate in a fun walk on September 9th at the main padang of HKL, creating a sense of community support for vascular health.
A significant event to mark in your calendar is the Borneo Vascular Update, which will take place from September 14th to September 15th, 2023 in Kota Kinabalu, Sabah. This conference will feature a distinguished faculty, both locally and regionally, and is poised to be the highlight of Vascular Society of Malaysia's activities for the year. It offers a unique opportunity for attendees to learn, share knowledge, and connect with peers in the field of vascular health.
In addition to these events, we invite you to check out our social media presence on vascular.my on both Instagram and Facebook. We have prepared various types of content, including snippets and short videos, aimed at providing a better understanding of vascular diseases.
Thank you for your interest and support as we work together to increase awareness, understanding, and prevention of vascular diseases in Malaysia. We look forward to your participation in these activities and hope they contribute to better vascular health in our community.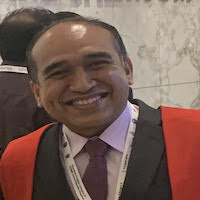 Dr. Naresh Govindarajanthran
President
Vascular Society Malaysia